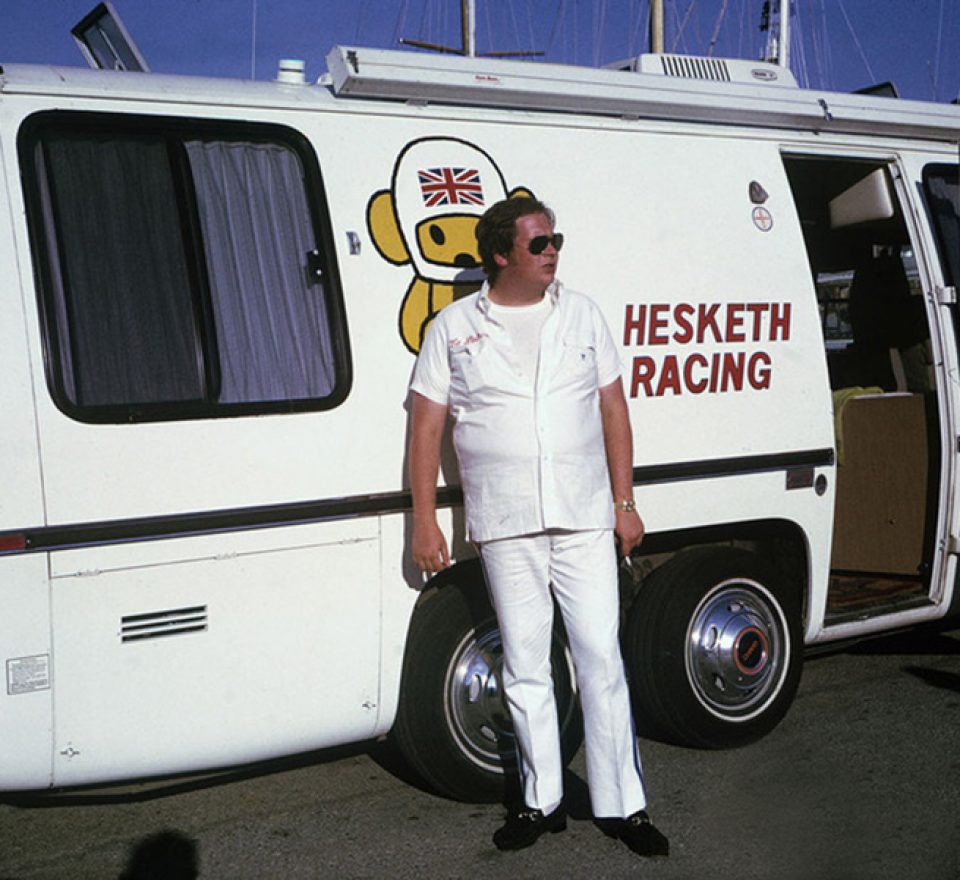 Lord Hesketh 'Le Patron'
Full Name:
Thomas Alexander Fermor-Hesketh, 3rd Baron Hesketh, KBE, PC
Nationality:
British (English)
Lord Hesketh succeeded in the barony on 6 October 1955, aged four, when his father, Frederick Fermor-Hesketh, 2nd Baron Hesketh, passed away at age 39.
His family seat was at Easton Neston, near Towcester, on the doorstep of Silverstone. It was inevitable that this would become one of Lord Hesketh's favourite circuits.
He was educated at Ampleforth College, Yorkshire, England, from where he absconded at the age of fifteen. When he was sixteen, he gave up the idea of formal education altogether and went into the used-car business.
As Alexander Hesketh, he said that he gained more useful knowledge from his two years selling cars than in all the time he was at school. His next move was to head for the United States, where he spent eighteen months working in a Californian investment bank before continuing his journey to Hong Kong to join a ship-broking firm.
Returning to England in 1971 he set up his own company, Hesketh Finance, with the inheritance given to him on his twenty-first birthday. Now he had his finances sorted, he turned his attention to his great passion, motor racing. He become friendly with Charles Lucas and through him met Anthony 'Bubbles' Horsley, long-time partner-in-crime of notable motor-sport personalities such as Piers Courage and Frank Williams.
Horsley was living in Chelsea with Piers and his wife, Lady Sarah, when the two met. As a result Alexander used to spend long hours at the Courage household, listening to racing chat and meeting more famous names.
Horsley eventually went off to the Himalayas, to be what Lord Hesketh called 'a guru'. He returned in 1972, by which time His Lordship was completely bored outside working hours, and the two of them decided to enter motor racing. The plan was that they would buy a Formula Ford car for Horsley to drive, and take the machine around Europe, simply having fun along the way.
The seeds of the future Hesketh Racing Formula 1 team had been sewn.
Lord Hesketh married Hon. Claire Georgina Watson, daughter of Joseph Rupert Eric Robert Watson, 3rd Baron Manton and Mary Elizabeth Hallinan, on 21 May 1977 and has three children.
Although Lord Hesketh was a member of the House of Lords he took no active part in politics until he met Prime Minister Margaret Thatcher after the IRA's bomb attack on her in Brighton on 12 October 1984.
Thatcher was visiting Lord Hesketh at Easton Neston and during their conversation, "Mrs. Thatcher asked me if I served on a regular basis in the House of Lords, and when I told her no, she said, 'You must. It's your duty, and I expect you to be there.'"
From that point Hesketh worked under Thatcher, who he described as "the most outstanding person I ever worked with" and held the office of Parliamentary Under-Secretary of State, Department for Environment between 1989 and 1990 and was Minister of State in the Department of Trade and Industry between 1990 and 1991. On 22 May of that year, he became Captain of the Honourable Corps of Gentlemen at Arms (Government Chief Whip in the House of Lords) under the next Prime Minister John Major, a position he kept until the 16 September 1993.
He later was president of the British Racing Drivers' Club from 1993 to 2000.