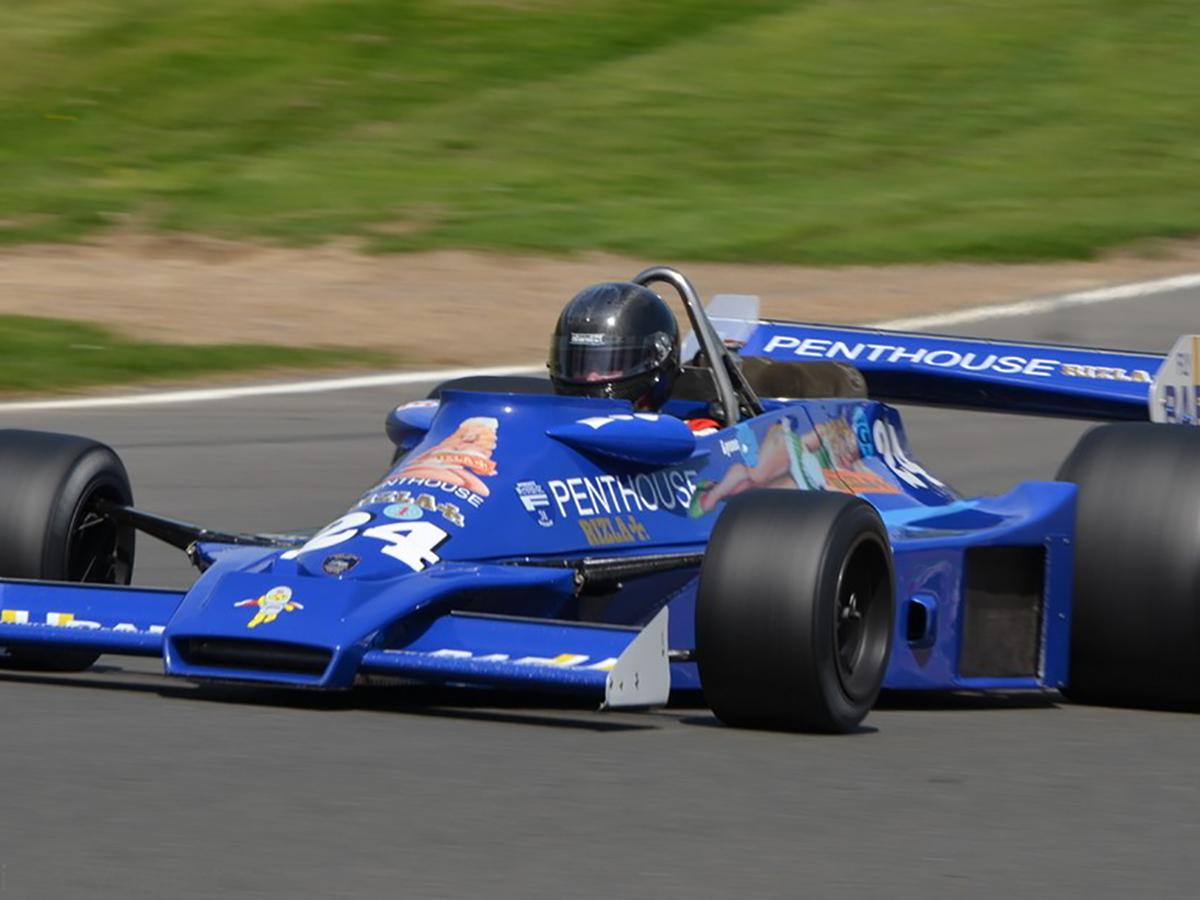 Bubbles Horsley continued with his Hesketh team into 1977, with a new Hesketh 308E design for Rupert Keegan and assorted hire drivers. The team finally withdrew from F1 in early 1978.
Frank Dernie, an old friend of the team's original designer Harvey Postlethwaite, was given responsibility for designing the new car, assisted by engineer Nigel Stroud who had developed the 308D during 1976. The attractive Hesketh 308E had a dart-shaped monocoque which seated the driver further forward than usual, but the car had a definite family resemblance to earlier Heskeths. Suspension was inboard at the front, with fabricated rocker arms, and outboard at the rear. Water and oil radiators were initially mounted in front of the rear wheels, but a nose oil radiator was soon introduced. Penthouse and Rizla, brought on board as sponsors by Guy Edwards in 1976, remained to support the highly regarded BP British F3 champion Rupert Keegan, while Harald Ertl continued in the team with his usual lengthy list of sponsors. A third Marlboro-sponsored car was later added for Mexican Formula Atlantic driver Hector Rebaque.
Keegan's striking blue car, chiefly remembered for its "Penthouse Pet" painted on the nose, was impressive on its debut at the Race of Champions, and both Keegan and Ertl qualified well for the Spanish GP, despite an excess of oversteer. Keegan only just qualified at Monaco, and by the Belgian GP it was clear that the 308E had handling problems, understeering into corners, and oversteering out. A lack of budget for testing was the root of the problem, Keegan commenting later in the year that the car retained all the faults it had had at the start of the season. There were a few highlights: Keegan was fifth fastest in the first session at the British GP after being given a brand new spare car, and the Englishman ran in the top six during the race in Austria, but finished seventh, just missing out on an all-important World Championship point. He became more dispirited as the season wore on. Meanwhile, Ertl's deal came to an end after only five GPs. Ian Ashley joined the team but, like Rebaque, rarely qualified. The team's season ended at the Canadian GP at Mosport, where Ashley comprehensively destroyed his 308E in a practice accident after getting airborne over the crest at the end of the main straight, and Keegan wrote off a second 308E after colliding with Hans Binder's Surtees during the race.