During the 1974 season, Hesketh's first with its own car, had shown much promise and ended well with Hunt finishing third in the US GP finale at Watkins Glen.
In the first race of 1975, at Buenos Aires, James got into the lead, but spun, under pressure from Emerson Fittipaldi, and finished second. "It was a long time," said Hunt, "before I learned how to win. When I made mistakes in F1, it was usually when leading, just through abject panic!"
James Hunt and his small-but-sparkling Hesketh team headed to the Dutch dunes of Zandvoort for the eighth round of the Formula 1 World Championship still aiming to convert their speed into success. 
Was Britain's burgeoning F1 star and its fun-loving-but-fast team on the cusp of joining the exclusive winners' club?
Not if a stinker of a run of results had anything to do with it. Fuel-system failure in South Africa, accidents in Spain (while leading) and Monaco, gearbox woes in Belgium and brake trouble in Sweden meant a rethink and a reset for the Dutch GP, particularly if Championship leader Niki Lauda, who'd taken a hat-trick in Monaco, Belgium and Sweden, was to be caught.
The Austrian Ferrari ace remained imperious in qualifying, securing his fourth pole of the year ahead of team-mate Clay Regazzoni. Hunt, meanwhile, matched his season-best starting position with third.
An hour or so before the start, it began to rain intermittently, and soon the circuit was soaked. Then the umbrellas came down again. What to do? Set up for the wet, softening rollbars, cranking on wing, or play safe with compromise settings?
Hunt and Horsley spotted a clear patch in the sky, and gambled further, leaving the Hesketh on 'dry' settings. Lauda, knowing he had the fastest car, went for compromise. Many of the drivers and teams eventually persuaded organisers to let them start on wet tyres.
Once the 75-lap race got underway, Lauda converted pole into the lead and the #12 Ferrari stayed there for 12 laps, holding off Jody Scheckter's Tyrrell that had jumped up from the second row. The rain had stopped and the Hesketh gamble was looking good. James ran fourth, behind Lauda, Scheckter and Regazzoni.
/ As a dry line began to emerge, the next decision was when to stop for slicks. "Not easy," Hunt said. "The racing line itself may be dry enough for slicks, but effectively you only have two wheel tracks in which to drive, and if you go a few inches off, you're on a wet track again."
He came in after only seven laps, and at once knew he had done the right thing. So long as he had a clear track, and could keep to the thin, dry line, slicks were emphatically quicker, but Lauda, taking no chances, did not stop until lap 13. By this time Hunt had taken a chunk of time from him, and as the Ferrari rejoined, James went into the lead. Hunt and Hesketh had played a tactical masterstroke.
It took Niki a lap or two to get accustomed to his slicks, during which time he was passed, for second, by Jean-Pierre Jarier's Shadow. Not until lap 42 was he able to find a way past, and by then the Hesketh was some way clear.
That left over 30 laps of intense pressure for Hunt to withstand. Losing out to Fittipaldi in Argentina would've been playing on Hunt's mind as he resisted the challenge from Lauda. 
There was precious little between the two but Niki was still odds-on for the win. The Ferrari's flat-12 would surely eat the Cosworth V8 down Zandvoort's long pit straight. As it was, Lauda, running more wing than Hunt, found his power advantage nullified, and the Hesketh, with 'dry' settings, was superior to the Ferrari in the quick corners; only in the slow stuff did Niki's high downforce work to his advantage.
"In the closing stages," Hunt said, "I really got myself settled in, and began to pull away from him a bit."
Against all expectations, Hunt and Hesketh held on to make history, crossing the line just over a second ahead to score their maiden victory. Hunt had become the first Englishman to win at the top level since Peter Gethin almost four years earlier.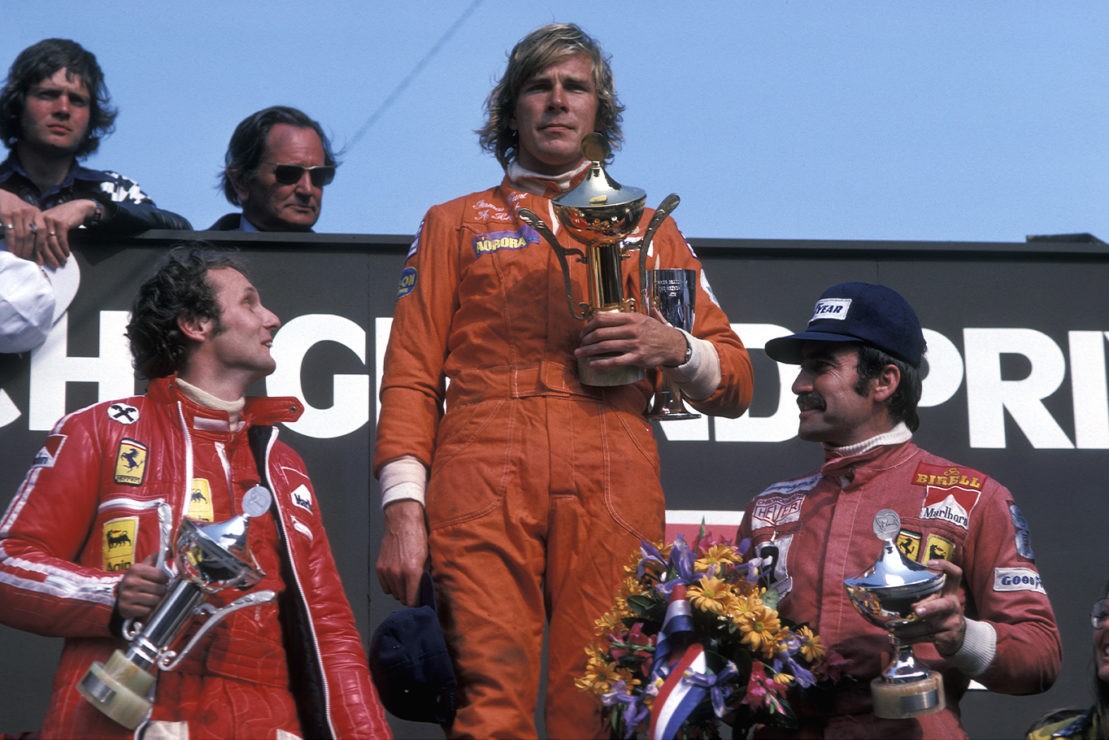 / "For the first time, I won a race more with brainbox than balls." reported Hunt.
For Hesketh, the 1975 Dutch GP marked its F1 high watermark and would remain the team's only victory.
It had had its day in the dunes – and no one who witnessed it would begrudge them of that.
"We all did a lap of honour on a lorry afterwards. On top of every sand dune were just waves, waves and waves of Union Jacks. It was a wonderful feeling to know that those people, who had travelled with us all the way around Europe, finally saw the result they wanted," said Lord Hesketh, "even today, the memory of that race gives me goose pimples."
At James's memorial service, in 1993, Hesketh recalled that brief period when a quintessentially English mix of eccentricity and genius took on the establishment.
"James represented something very English, didn't he? He was the combination of the Corinthian Casual and the anarchist. Hesketh Racing gave him very little, but he gave a great deal to us.
/ "It was my honour and privilege and still the greatest thing I ever took part in to have been able to give James his chance."

Lord Hesketh